Clean design
Due to heightened public awareness and demands from our customers about sustainability and hygienic drives, we tend to design our products to their maximum economic and environmental purposes. This means: Smooth curves, Easy water washdown solutions, No dirt traps and of course AISI 304 & AISI 316 stainless steel materials.
Reliability
Our Stainless Steel solutions for the food industry provide a much more reliable option than conventional cast iron drives. Cast iron or aluminium drives made with a coating or paint surface treatment will most of the time fail soon. Dertec provides the solution by using real Stainless Steel (AISI 316) castings for the Dertec gearboxes. Nothing beats the general properties of Stainless Steel for hygiene, sustainability and easy cleanability!
Wide variety
Dertec does not only focus on the most popular drives. Through the years we have engineered the most common gearboxes for the automation industry. We handle up to 2700 Nm output torque in stainless steel. No less than 29 different types divided over 8 product lines can be supplied to meet your needs. Please feel free to contact us for bigger or smaller Stainless steel gearboxes, we will be happy to study a suitable solution for your specific application.
Dertec
engineering
"Engineering doesn't stop after the theoretical approach" is a saying which applies significantly in the hygienic and sustainability branch. At Dertec we strive to connect with our customers. Monitoring the latest hygiene, sustainability trends and design solutions, will result in a big advantage at our engineering department. Our product team defines their research through a practical and an on-site knowledge basis. By pilot testing our drives in extreme environments, we improve with constant feedback from the actual place of operation.

The balance between a hygienic design and a convenient usage of the product is a difficult task. Dertec handles a minimalistic design from the outside to ensure the water washdown capabilities. By maintaining one of the world's biggest varieties in stainless steel drives, we tend to engineer every single drive to its hygienic capabilities. In order to protect the values of the Dertec design language, we ensure that every model or concept is being tested to very strict hygienic criteria.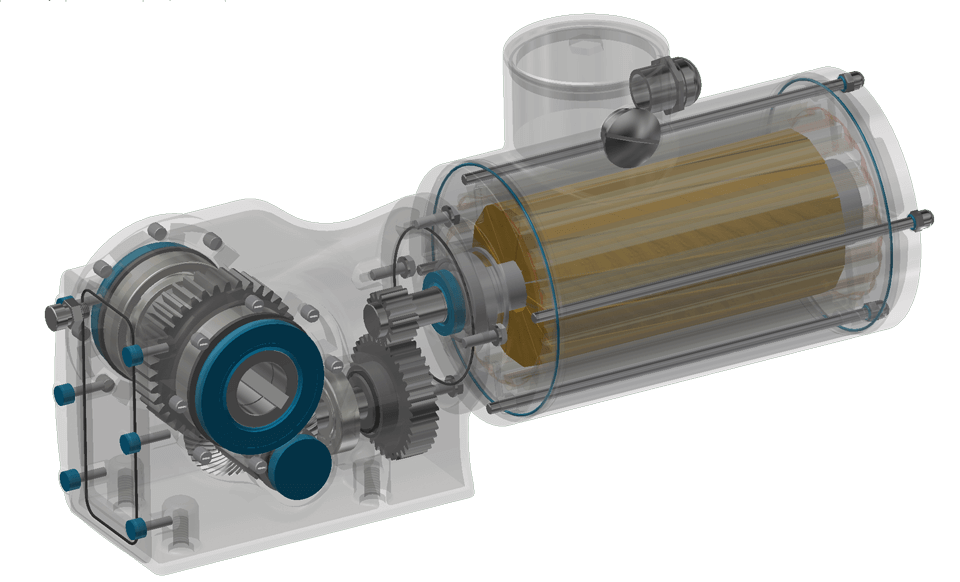 Also curious what the Dertec products can mean for your conveyor?
Click on the blue dots
to view the possibilities.