Dertec has a very complete range of stainless-steel gear motors and fully customized stainless-steel drives. To visualize the diversity in our delivery program, we show you in this article the largest and smallest version of our gearboxes in one picture.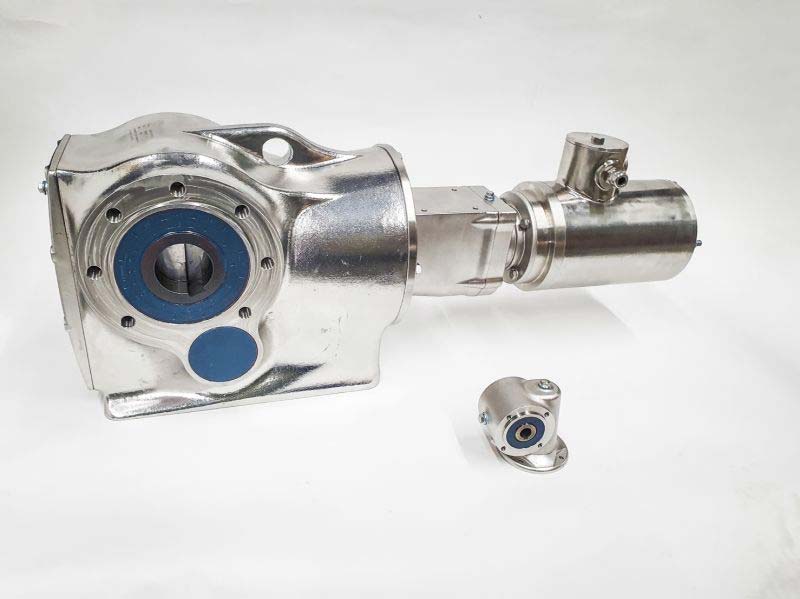 The giant and the dwarf
The smallest gearbox in our program delivers 20 Nm of torque and has a hollow shaft diameter of 14 mm. The largest delivers 2700 Nm of torque with a hollow shaft diameter of 60 mm. The shaft diameter of the largest gearbox is therefore more than 4x as large and delivers 135x more torque.
The large gearbox shown is our FKA88. In the picture, the bevel gearbox is combined with a FRC01 gear stage and an FP2SS Asynchronous stainless-steel motor, creating a complete gear motor. This version has been delivered to a client in the United States where our UL / CSA certification (UL E506337) ensures that the system meets all requirements of this country.
Gearboxes and motors in stainless steel
Dertec stainless steel gear motors offer many advantages. Due to their round and smooth design, they prevent dirt build-up and are very easy to clean using a "Clean in place" process or other cleaning techniques. Special shaft seals and the duplex stainless steel hardened shaft ensure a longer life, which can be up to 4 times longer than with conventional drives. In addition to our standard hygienic stainless-steel drives, we also supply a special series Signature line motors and gearboxes which, with their adapted seals and design, deliver even better hygienic properties for demanding applications in the food industry.
More information about gear motors?
Would you like to know more about our gear motors? Visit the gear motors page or the stainless-steel gearboxes page. For tailor-made solutions, please contact us directly.