Why

choose for Dertec Stainless steel gearboxes and motors
Tagplates
All Dertec stainless steel geared motors and stand-alone Electric motors are being made with laser engraved technical data on the frame thus eliminating hygienic and safety risks.
Tagplates on common geared motors are prime areas for bacterial growth. The small seem under the tagplates offers an ideal spot for bacterial growth. Tagplates will corrode, get damaged or can detach from the gearbox housing without knowing where the tagplate can be found back. This can also lead to traceability issues in your food production line.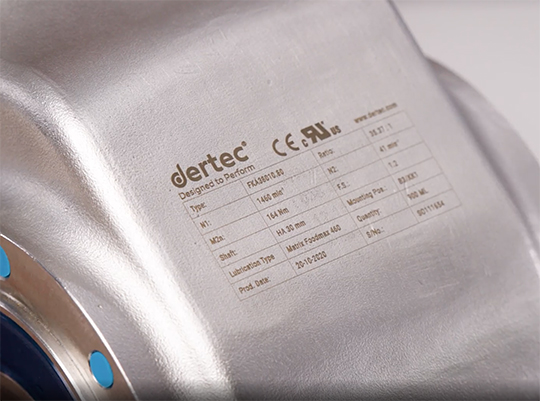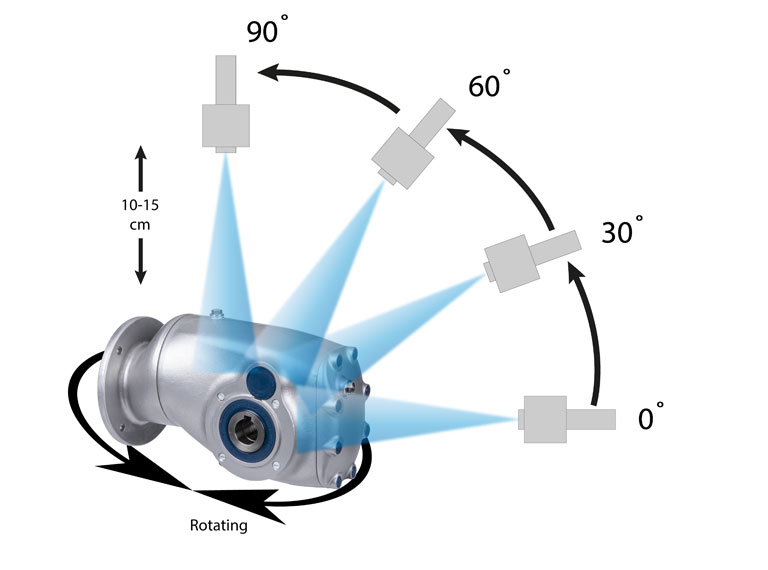 IP Sealing
According to the IEC Norm 60529 the IP code consists of two digits. Generally speaking the higher the numbers the higher the protection. The first digit stands for ingress of solid or dust particles. The second digit is an important number for the foodindustry as it stands for the protection against water. Dertec Stainless steel geared motors are rated IP66 and can be rated IP67 or IP69. Please consult our salesteam for the correct IP grade matching your requirements.
Note: IP67 and IP69 are different test methods and intended to be for different industries. Please check the official Norm and understand the differences. For more information select the blue "more information box".
Terminal box
Dertec Stainless steel geared motors and stand-alone electric motors are being equipped with a round terminal box. The terminal box is welded to the motorframe and has limited spaces to trap dirt or water. A carefully selected Dertec hygienic gland matching the cable diameter will offer a watertight hygienic solution.
Our new series Signature line Stainless steel motors will be equipped with a brand-new design terminalbox. The new terminalbox has a similar round design but can be turned around 360 Degrees to offer the best possible cable entry position. The new designed Terminal box offers double sealing against water ingress and hygienic protection by using new silicon hygienic seals between the cover and the base.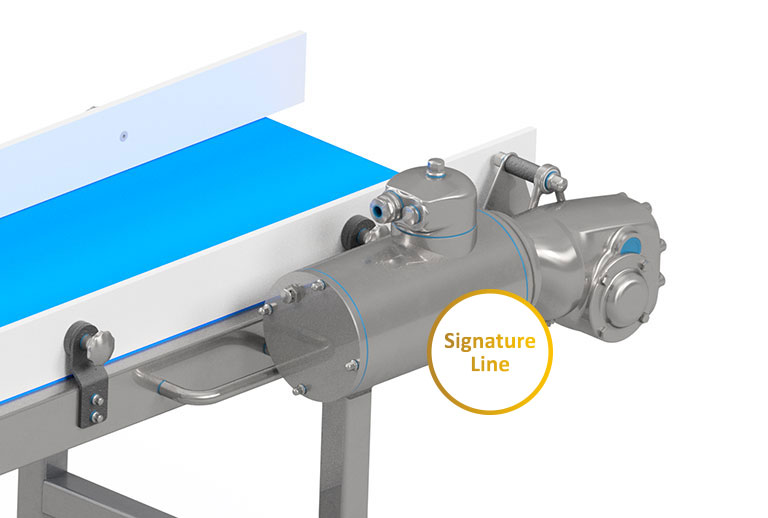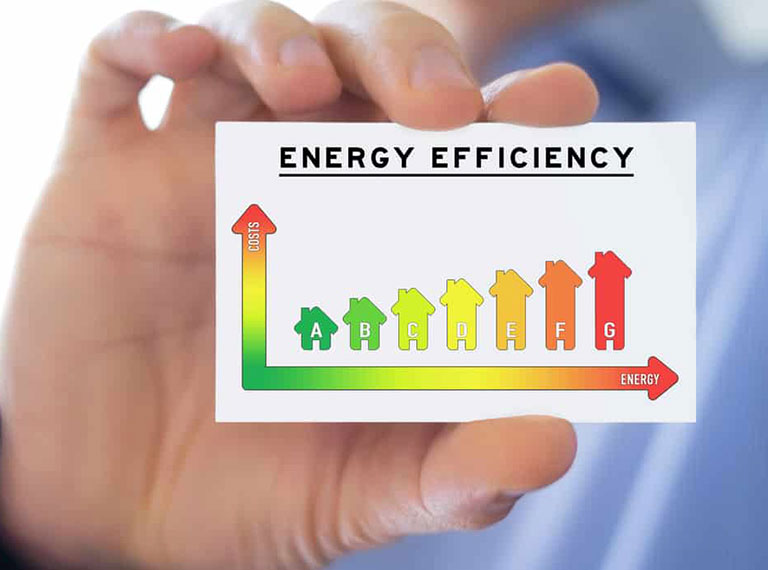 Efficiency legislation
The full range of Dertec Stainless motors is according to IE3 (FP2SS) and ready for direct online or inverter use.
Dertec introduced a new developed line of Stainless steel AC Permanent Synchronous motors, as a part of the new Signature line. Dertec PM Synchronous motors are highly efficient and will match IE4/IE5 conditions.
Dertec SS PM Synchronous motors offer High efficiency, Hygienic design, High starting torque and High Cos Phi at partial load as well as at full load.
Above in combination with the Stainless steel motordesign these motors are ready for the future.

PM motorsheet
Inverter use
Dertec stainless steel motors are suitable for use in combination with frequency inverters.
All Dertec stainless steel motors are equipped with PTCs and bi-metallic switches.
We strongly advise you to read the below information carefully.
If you have additional questions, we ask you to consult our sales department.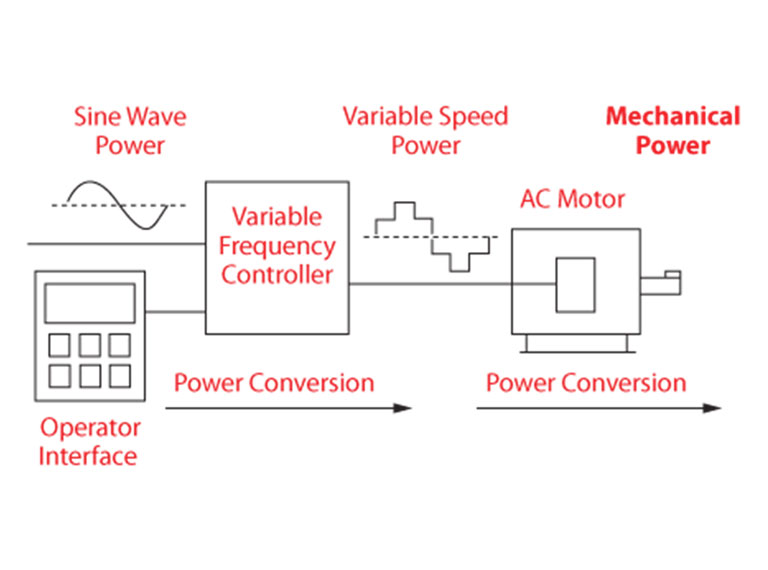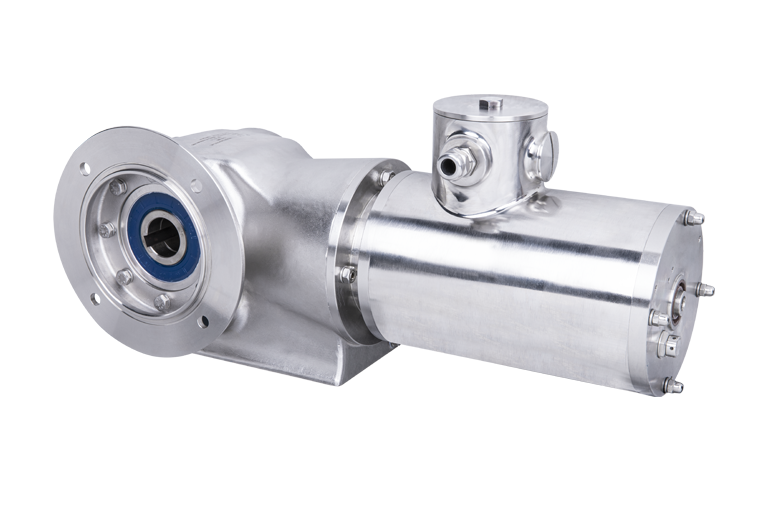 Dertec Stainless steel geared motors beats corrosion
The gearbox body is made of SS 316 steel, the motor body is SS304 steel. Dertec Stainless steel offers a corrosion resistant surface with no paint to flake off. The round and organic design is ideal for use in hygienic applications. For special applications Dertec offers special seals and surface treatments to increase the clean and hygienic properties of the standard being used stainless steel.
Produced in the Netherlands Dertec stainless steel geared motors are wash down tolerant and offer a proven design for Clean in place areas and washroom situations. Special shaft seals and hardened shaft materials offer a long life time. Dertec Stainless steel motors are equipped with high quality bearings, suitable to withstand the harsh conditions in the food industry. This does not stop with the bearing specifications only. All bearings are made with hydrophobic, high temperature food grade lubrication to increase the initial lifetime of the bearings.
Special shafts and flanges
The standard IEC flange is commonly used in combination with gearboxes, pumps or blowers.
Dertec offers also special shafts solutions for customized machinery. See picture with special shafts for freezing tunnels and special shaft/flange combination matching with SEW gearboxes.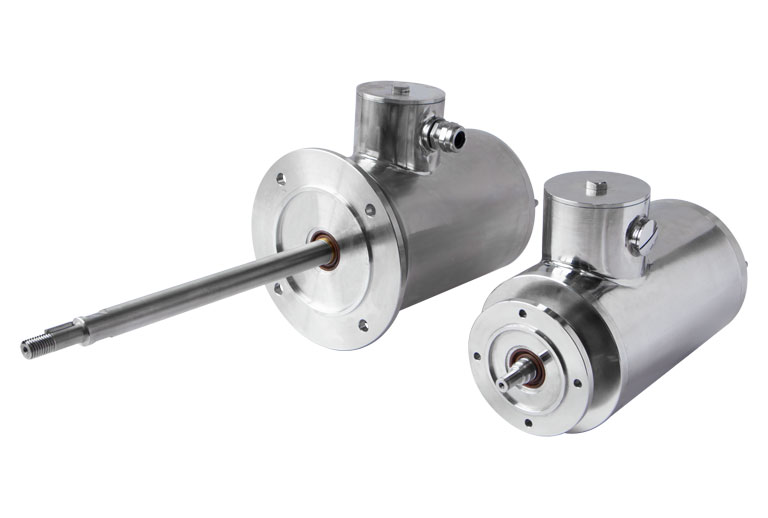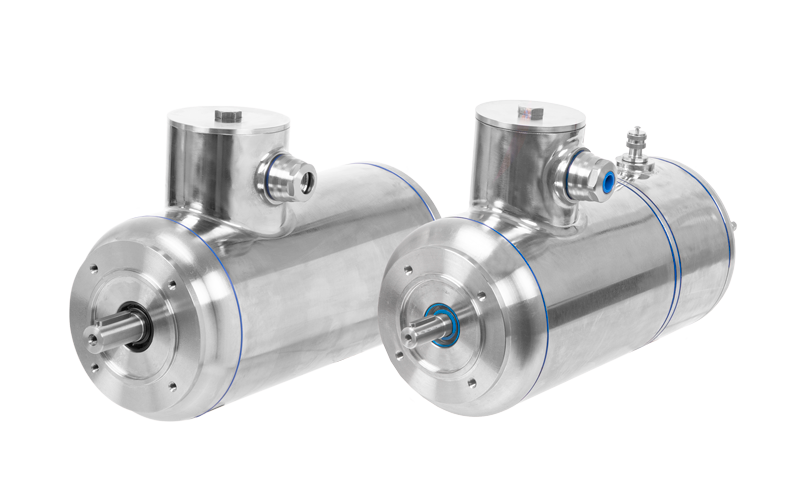 TENV / TEFC / TEWC
Dertec Stainless Motors are TENV totally enclosed non ventilated up to 0,75 kW. From 1,1 kW the Dertec Stainless steel motor are standard made with TEFC fan cooled motors. For extreme high ambient environments Dertec offers water cooled motors TEWC.
The new Signature Line PM motors can be, as a result of their higher efficiency supplied in TENV up to 1,5 kW.
Certifications
Dertec Stainless Motors are CE and CCC Certified. For export to the USA and Canada, Dertec motors are UL/CSA certified under number UL E506337.